Ceviche with Pepper and Apple Pearls
Ceviche with peppers and apple pearls
In the traditional ceviche, a small cut fish fillet is "cooked" in lime juice. This is the so-called acid denaturation.
It to a structural change of the proteins in the fish meat similar to frying. The nice thing is that with denaturation it keeps the texture popular and the fish retains its great bite.
Instructions:
300g white fish fillet e.g. cod
6 limes
1/2 red bell bell pepper
Green apple fruit pearls
Lettuce and apple wedges as garnish
Salt, pepper and coriander to taste
Place the fish cubes in a shallow dish. Pour the juice of the limes over the fish and let sit for about 10 minutes (denaturing).
Remove the fish from the lime juice and mix with diced peppers.
Season to taste and top with Green Apple Fruit Pearls and garnish with apple wedges and lettuce.
Products to use
Green Apple Popping Boba Fruit Pearls for Bubble Tea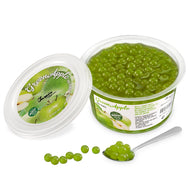 Regular price

from €11,99