This creation brings sunshine to the gloomy November! Bubble tea is not just for the summer season!
You can make this drink with the tea of your choice, we had a hankering for lemon flavored lime blossom tea today.
Ingredients:
200ml cold lemon flavored lime blossom tea
2cl Inspire Food Company lemon syrup
Egg cubes (to taste)
30g (2 tbs.) Inspire Food Company Lemon Fruit Pearls
2 thin slices of lemon
Instructions:
Step 1.
Stir the syrup into the cold tea
Step 2
Add the two lemon slices to the glass
Step 3
Add the fruit pearls
Step 4 Add the ice cubes
Add the ice cubes one by one
Step 5
Fill the glass with the tea-syrup mix
Step 6
Use one of our bubble tea straws made of paper or bamboo to easily suck up the fruit pearls.
Products to Use
Lemon Popping Boba Fruit Pearls for Bubble Tea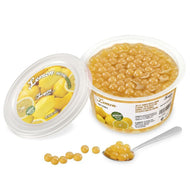 Regular price

from €11,99