Fruit Pearls x Cocktails?

Fruit Pearls x Cocktails?
Did you know that numerous bars and restaurants use Popping Boba aka fruit pearls also in cocktails and desserts?
The delicious, fruity taste and the fact that the pearls simply look aesthetically beautiful and decorative also arouses the interest of many bartenders and star chefs!
From time to time the fruit pearls are also called "vegan caviar" or "fruit caviar" because they resemble the transparent fish eggs so much...
In cocktails, the fruit pearls offer a unique, sweet flavor explosion that goes especially well with tart and fresh creations.
In the picture we show a mixture of lemon vodka, raspberry liqueur, pear and cardamon liqueur with a touch of lemongrass. And so topping and sweet surprise: our Inspire Food Company fruit pearls in "Green Apple".
Cheers then!
Products to use
Green Apple Popping Boba Fruit Pearls for Bubble Tea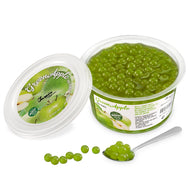 Regular price

from €11,99