Delicious Yakult Bubble Tea
Delicious Yakult Bubble Tea
Also try this delicious recipe with Yakult!

Step 1: Puree 125 g of fresh fruit. For example, strawberries, mango, blueberries, kiwi or raspberries.

Step 2: Add 275 ml of cooled green tea and honey to taste.

Step 3: Put the tapioca in a glass along with the fruit puree and tea and add a bottle of Yakult.

Healthy and delicious!
If you would like to try this or any other recipe at home, please let us know. Tag us with #bubbleteafunshop.
Products to use
Tapioca Pearls for Bubble Tea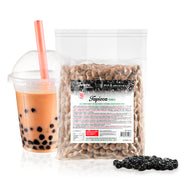 Jasmine Green Tea 500g