Matcha pancakes
We're firm believers in sleeping in and brunching on the weekend (after all, we don't work hard all week for nothing!). So it's only understandable that we reward ourselves with one of our brunch food favorites: the matcha pancake!
Ingredients:
1 cup flour
1 tablespoon matcha powder
2 teaspoons baking powder
1/4 teaspoon salt
1 cup cashew nut milk
1 egg
2 tablespoons olive oil
2 teaspoons vanilla extract
1/4 cup white chocolate chips
Instructions:
Step 1
Combine flour, matcha, baking powder and salt in a bowl. Press a small bulge in the center of the mixture and add 1 cup and 1 tablespoon of cashew milk, egg, olive oil and vanilla extract. Mix the batter until only very small lumps remain and then add the chocolate chips. Mix in.
Step 2
Lightly grease a small skillet, heat over medium heat. Place 2-3 teaspoons of the batter in the center of the pan and spread the batter with the back of a spoon. Fry until small bubbles form on the surface (about 1 minute). Turn and finish baking until edges turn light golden brown (about another minute).
Products to use
Blueberry Popping Boba Fruit Pearls for Bubble Tea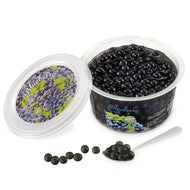 Regular price

from €11,99