Sparkling wine and fruit pearls: a magical mix

Sparkling wine and fruit pearls: a magical mix
Bye Bye 2022, New Year's Eve is just around the corner and toasts are being diligently made.
Sparkling wine and champagne are occasionally transformed into fruity mimosas, but another option to enhance the sparkling wine or champagne with a fruit kick are our fruit pearls.
Simply add 6-8 fruit pearls to the champagne glass and top with sparkling wine or champagne.
Our favorite: Green apple fruit pearls! A fruity surprise on the last sip! Cheers and all the best for 2023!
Products to use
Green Apple Popping Boba Fruit Pearls for Bubble Tea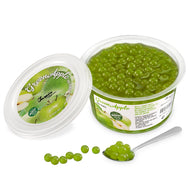 Regular price

from €11,99