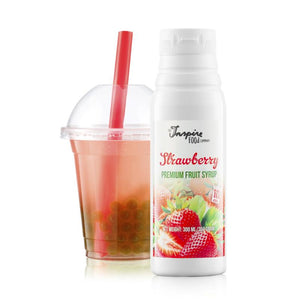 Premium quality fruit syrup based on natural ingredients, made in Italy.
With fruit syrup you can prepare not only the perfect iced/bubble teas, but also the perfect fruit cocktails.


Size: 300ml per bottle


Shelf life: Up to 18 months unopened. Store in a cool, dark and dry place.


Once opened, consume within 30 days.


Bubbleteas per bottle: ~ 10 servings (at dosage of 30ml per 500ml cup).
Ingredients: fructose, strawberry pulpy juice (25%), sugar, water, acidity regulator: citric acid, malic acid; thickeners: pectin, guar flour; natural flavor, preservative: potassium sorbate; sweetener: sucralose; colorant: Allura red AC*.
Allergens: may contain traces of nuts, milk and milk products.